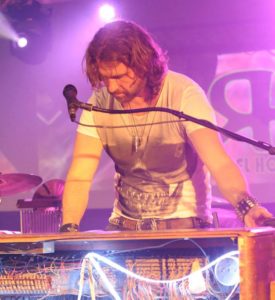 Mike Mangan's path to becoming a musician, and specifically a Hammond Organist, was unpredictable, yet seemingly inevitable. His mother first enrolled him in piano lessons in 2nd grade with the Nun who played Pipe Organ in the church at the Catholic School he attended in Waukesha, WI. He continued private instruction until the age of 13. However, throughout much of this time, and all the way through his late teens, Mike's life diverted into intense athletic pursuits. Nevertheless Mike always continued to play piano, influenced by his parents love of jazz and his older siblings' love of rock music. Due to several life changing events, a 19 year old Mike refocused his passion on piano full time, and was inspired to learn George Winston's variations on the Pachelbel Canon by ear. His life would never be the same.
He then discovered The Allman Brothers and Santana and was immediately captivated by the powerful unorthodox sounds emanating from the King of Keyboards, the Hammond Organ. Mike had to have one. Not an imitation or a more portable synthesizer, but a REAL one. He purchased a 1959 Hammond B3 Organ and 1973 Leslie from Bob Kames Music in Milwaukee, WI. It's the same rig he still plays today when travel permits. (Interestingly Bob Kamas was an Organist who played with artists such as Lawrence Welk. He is credited with developing and popularizing the famed "Chicken Dance")
Then the flood gates opened, and Mangan studied the Hammond Organ styles of everyone from Jack McDuff, Jimmy Smith and Groove Holmes to Keith Emerson, Jon Lord and Rick Wakeman. He also retained a love for the guitar stylings of Jim Hendrix and Stevie Ray Vaughan, and jazz pianists such as Gene Harris. It was then that Mike decided he needed to forge his own unique sound on the organ, and that the best place to do that would be Los Angeles, CA.
He drove his Hammond and Leslie out to LA in a van. After being an integral part of 2 full length albums in 2 different rock bands as a writer, back up vocalist, and keyboard player in which he began to experiment with unconventional approaches to the Hammond, Mike struck out on his own. He formed a rock quartet modeled after Rage Against the Machine, with the B3 replacing the role of the guitar. Searching for new tones on the organ that combined the power of electric guitar with the classic keyboard, he began to experiment with wah wahs and natural overdrive. He released an EP with this band, which he named Drawbar. On this recording, which was tracked on 2 inch tape, Mangan achieved some monstrous unique tones on the B3 via his method of tonal manipulation.
Due to personal issues, the band broke up and Mike created Big Organ Trio, an instrumental power trio consisting of simply bass, drums, and Hammond Organ. In this setting Mike was free to further explore uncharted sonic territory on the Hammond with no restrictions. He released 2 full length albums. BOT's first album was picked up by Japanese label P-Vine Records. A tour of Japan followed and a Japanese reprint of their first album was produced (which included a bonus live track.) Big Organ Trio also recorded a cover of Jimmy McGriff's "Groove Grease" for a P-Vine compilation CD. Big Organ Trio toured nationally and internationally and shared the stage with musicians such as Robbie Krieger (The Doors) and Leo Nocentelli (The Meters).
Fueled by Mangan's unorthodox, high energy live performances (where Mike would even play the organ backwards) as well the unique tones he conjured from the Hammond, BOT garnered a loyal fanbase and caught the attention of prominent musicians such as Keith Emerson. Emerson played with Mike on several occasions during BOT shows, trading riffs with Mike on his Hammond. Big Organ Trio also had guest musicians on their second album that included Marc Ford (Black Crowes), Munyungo Jackson (Stevie Wonder), Leon Mobley (John Mayer) and Skerik (Primus).
After several personnel changes to Big Organ Trio, Mangan put the band on temporary hiatus, but his creative juices were leading him towards forming yet another band in his mind's eye: REBEL HOUSE RADIO, which he formed with guitarist Mike Blumberg. Mangan focused his writing on lyrics and vocal melodies and assumed the lion's share of lead vocal duties en route to releasing a 14 song album entitled "One More Day". Their music video for the song "Can't Say No" won Best Music Video at the Los Angeles Film Fest.
As a sideman, Mangan has also been hired for his organ skills by bands such as Kings Of Chaos (which consists Guns N' Roses members Matt Sorum, Duff McKagan and Gilby Clarke, Glenn Hughes from Deep Purple, Billy Gibbons from ZZ Top and Nuno Bettencourt from Extreme). Mangan has also composed and recorded several quasi-classical pieces, as well as other genres, for Film and TV.
After a run of shows that combined BOT and RHR, Mangan was contacted by Heaven & Earth to man the Hammond in the lead up to the release of the H & E album "Hard To Kill". A mutual love and respect for the Hammond Organ and its vast capabilities made this a perfect fit and, with the support of Quarto Valley Records, is poised to be something special.
Sponsors & Endorsements